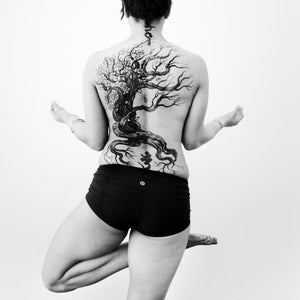 Yoga Classes
---
Dharma Jane is a 200HR certified YT and has been teaching Ashtanga Vinyasa, Sadhana Yoga Chi, Yin Yoga, Pre-natal Yoga and various meditation techniques since 2003.
Sahana Yoga Chi combines the movement of vinyasa yoga with deep breathing techniques to activate heat within the body and align yourself spiritually and mentally. This is a physically assertive style of Yoga and is modified to work with all levels of practitioners.
Yin Yoga is meant for deep relaxation and deep stretching. We will move across each of the muscle areas and relax the body and mind to an entirely calm state. The last portion of class is a guided meditation to further self-realization. (All levels). 
Guided Meditations and Pranayama sessions will be held most days after a Sun Salutation series or full class.
Click here to access COMPLIMENTARY YIN YOGA CLASS
Click here to access COMPLIMENTARY YOGA FLOW
About the Studio:
Dharma Ravens Tribe Yoga & Meditation Studio is broadcasted through YouTube.
To attend yoga class, please join the "Tribe Body" membership on YouTube.
For meditations and workshops only, please join "Tribe Mind". 
For access to all tribe happenings, please join "Tribe Spirit". 
Schedule:
Most days we will begin the morning with Sun Salutations and Aryvedic group chats.
Sundays: YIN YOGA
Tuesdays & Thursdays: YOGA FLOW
Video replays are available for unlimited replays.
---
Sorry, there are no products in this collection.